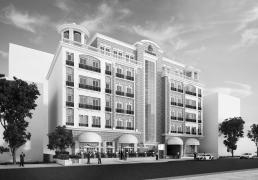 The Classical Palace Group is proud to announce the launch of the soft opening of Qatar's first luxury hotel brand, Zubarah Hotels and Resorts, in early January 2014. Introducing a new hospitality concept defined by Qatari culture, the hotel will embody a distinct identity presenting an inspiring hub for Qatari creativity and hospitality.
Zubarah Hotels and Resorts is the vision of Abdullah Al Hamad, CEO and Founder of The Classical Palace Group who have been designing inspiring and uniquely tailored contemporary buildings around the Gulf region for both boutique hotels and individual residences since 1995. Zubarah Hotels and Resorts reflect Abdulla's great commitment to the celebration of the cultural and historical values of the State of Qatar.
Zubarah Hotels and Resorts is named after Al Zubarah city, an historic site which was once the gateway for Qatari international trade and cultural exchange. The restored Zubarah Fort and its unique detail in the tower battlements has inspired the arch symbol for the Zubarah Hotel and the use of Arabic calligraphy, textures and colors that express Zubarah's heritage and authenticity.
"This is an exciting time for Zubarah Hotels and Resorts; we are very proud to launch Qatar's first luxury hotel brand, a concept to captivate leisure and business travelers alike to experience the warmth of Qatari hospitality. We are keen to provide personalized experiences through cultural exchange, exceptional "sense of place" and historic accents. Our hotels will definitely serve as a platform for Qatari culture to shine in music, education, arts and charity initiatives." commented Abdullah Al Hamad.